Joshua Pajak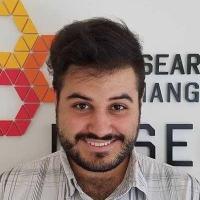 Student
My research focuses on uncovering the mechanisms by which bacteriophages package their genome during replication. I use physics-based computational methods rooted in statistical mechanics and stochastic processes to simulate the viral DNA packaging proteins under a variety of conditions. As my research continues, I draw inspiration from related ATPases such as helicases, translocases, and proteases to find conserved mechanisms involved in ATP hydrolysis and motor function.
Appointments and Affiliations
Contact Information
Office Location: 3353 CIEMAS
Email Address: joshua.pajak@duke.edu
Websites:
Education
B.S., Chemical Engineering, Rutgers University, 2016
Research Interests
My current research interests focus on two aspects of viral DNA packaging ATPase enzymes:
What mechanisms do these enzymes use to regulate ATP hydrolysis?
How do these enzymes grip - and just as importantly, ungrip - DNA during translocation?
I am broadly interested in developing a unified model of these enzymes' activities to resolve conflicts in currently proposed models.
Representative Publications
delToro, D; Ortiz, D; Ordyan, M; Pajak, J; Sippy, J; Catala, A; Oh, C-S; Vu, A; Arya, G; Smith, DE; Catalano, CE; Feiss, M, Functional Dissection of a Viral DNA Packaging Machine's Walker B Motif., Journal of Molecular Biology, vol 431 no. 22 (2019), pp. 4455-4474 [10.1016/j.jmb.2019.08.012] [abs].
Ortiz, D; delToro, D; Ordyan, M; Pajak, J; Sippy, J; Catala, A; Oh, C-S; Vu, A; Arya, G; Feiss, M; Smith, DE; Catalano, CE, Evidence that a catalytic glutamate and an 'Arginine Toggle' act in concert to mediate ATP hydrolysis and mechanochemical coupling in a viral DNA packaging motor., Nucleic Acids Res, vol 47 no. 3 (2019), pp. 1404-1415 [10.1093/nar/gky1217] [abs].
Pajak, J; Arya, G; Smith, DE, Biophysics of DNA Packaging (2019) [10.1016/b978-0-12-809633-8.20966-7] [abs].